Epta @Sifa : Simple, ingenious, efficient in any climate - That's your #storevolution. The Epta System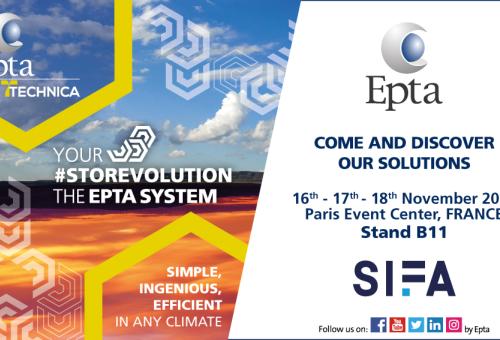 Epta is among the protagonists of SIFA in Paris, the Interprofessional Fair of the Cold Chain and its Applications, scheduled from 16 to 18 November (Stand B11). A moment of exchange with all the players of the chain, for a full immersion in the Epta world, enclosed by the concept "Simple, ingenious, efficient in any climate – That's your #storevolution. The Epta System". The three-day event will be the opportunity to nationally preview the EptaTechnica brand, illustrate the most recent technologies and solutions and, during the scheduled conferences, to investigate the advantages of the applications of Co2 systems worldwide.
EptaTechnica is the brand specalised in the technical refrigeration solutions offered by the Group, from the packs to innovative, sustainable and complete systems, able to deal with every phase, from design and engineering to installation. An ally for the Retailers, who can now entrust themselves to an operator of proven experience and particularly attentive to the reduction of the environmental impact. Evidence of the expertise of Epta is the participation in the LIFE Programme of the European Union with the Life-C4R –Carbon 4 Retail Refrigeration project. The results obtained by the project have allowed to complete the industrialisation phase of the FTE Full Transcritical Efficiency and ETE Extreme Temperature Efficiency systems.
Among the solutions on show stands out FTE 2.0, the evolution of the FTE patented system, recommended at any temperature and which becomes a must to obtain maximum efficiency above 37°C. Simple, efficient, reliable and industrialised, FTE ensures 10% less energy consumption compared to a traditional CO2 system and installation and maintenance costs reduced by up to 20%. Finally, in the 2.0 version, FTE, integrated with the Eco2Large pack, guarantees smaller size and reduction of installation and start-up times. This solution will be investigated in-depth at the stand and focus of the talk of Patrick Lissardy, Sales Manager Epta France at the Atelier Expert, entitled "Les solutions Epta au CO2 pour les climats chauds" scheduled for 17 November at 17.00.
The stand is enriched by the MISA KLC coldroom for fresh and frozen products. Flexible and adaptable, in every configuration, it is available starting from 40 cm, with a modularity of 20cm, for an optimisation of spaces and an installation speed, in every environment. It is possible to opt for panels of 60, 100 and 130mm, external and internal finishes in stainless steel and hinged or sliding doors. Finally, to ensure maximum food safety the Misa solutions are treated with the antibacterial system with silver ions Epta Food Defence. A tangible example of sustainable innovation, ensures a total and permanent protection for the entire useful life of the cold rooms.