SEMIVERTICAL TWIN MIDI BY EUROCRYOR, TRANSPARENT QUALITY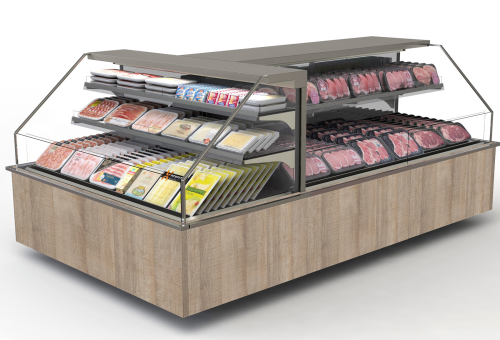 Eurocryor refines the self-service semivertical Twin Midi SV cabinet of the Ambienti family. Designed according to the principles of functional design and characterised by straight lines and transparency, Twin Midi SV is able to confer elegance to the self-service areas and create islands dedicated to the presentation of high-value fresh products, in any display context. Interpreter of the brand identity of Eurocryor, in the claim "Pure Italian Style", Twin Midi SV merges innovation, technology and elegance.
Optimal performance, improved preservation and enhancement of products: thanks to a work of re-engineering and review of refrigeration techniques, the chilled cabinet, in the best configuration, is certified in energy class D and offers both flexible and effective merchandising. Twin Midi SV proposes original presentation in virtue of the numerous personalisations and a high attention to detail, like the transparent back and the glass decks, synonymous with a total visibility that underlines the freshness of the products. The attention to detail is also evident, for example, in the finishes in stainless steel, the personalisation of the fronts available both varnished and in material solutions or in laminate, in two aesthetics (h 250 or 450), double temperature and set-up with a configuration of 1 or 2 decks, for a diversified display inside the same cabinet.
Finally, Twin Midi SV Eurocryor ensures an efficient display ratio: the chilled cabinet is designed to make possible the presentation of ambient products on the roof, to encourage cross-merchandising opportunities of complementary articles.