The ergonomics and design of Eurocryor countertop display refrigerators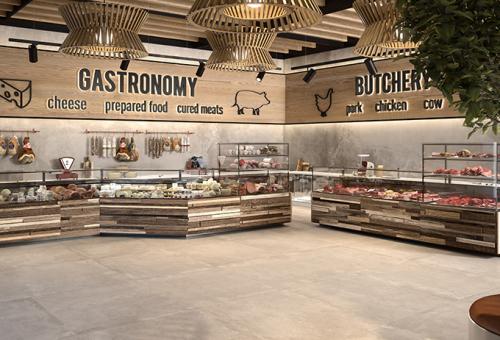 Epta actively participates in the challenge of the energy and ecological transition with its brand Eurocryor.
Eurocryor helps to achieve the strategic goals of the Group with its offer of countertop display refrigerators featuring cutting-edge design and merchandising.
The environmental, social and governance commitment of Epta has led to the definition of a tangible structured pathway of sustainable innovation.
The range of Eurocryor display refrigerators dedicated to energy efficiency and ergonomics
To date, Eurocyror has launched several initiatives which translate into advanced technologies dedicated to ergonomics and a more rational use of energy resources.
Eurocryor is specifically attentive to the prevention of risks connected with handling of loads, repetitive gestures, and incorrect postures adopted at work. All in the perspective of a design attentive to the health of Workers and consumers.
Adaptive System: the intelligent remote management system of display refrigerators
Eurocryor also guarantees healthy and safe food: its solutions ensure perfect food preservation, by maintaining the organoleptic properties in favour of maximum freshness of the products and waste reduction.
Adaptive System is a tangible example. It is an unprecedented refrigeration management system.
It regulates the operating parameters of the refrigerators and adapts the refrigeration to the ambient variations, allowing better performance in terms of stability of temperatures and maintenance of humidity inside the display case. This implies an extended shelf-life and a reduction of approximately 10% of energy consumption.
Available for all models of the Stili range, Adaptive System is ideal for products subject to a natural loss of moisture, or which tend to dry out such as:
meat

pre-sliced cold cuts

cured meats

dairy products

fresh pasta
Visualis, the safe and efficient countertop display refrigerator
A further solution worthy of note is the Visualis countertop display refrigerator, always of the Stili range. The cabinet is designed to give perfect visibility to the products and facilitate the work of operators.
The technical features include the presence of an inclined ergonomic support surface without protrusions which encourages a correct posture. Furthermore, the dedicated accessories and the sliding worktop allow rational and flexible use of space, for greater comfort during loading and serving.
Finally, Visualis also allows 10% energy saving compared to traditional display refrigerators, placing itself among the best serve-over solutions within the context of Energy Labelling.