Campionato Italiano Giovani Macellai: Epta is a sponsor with Eurocryor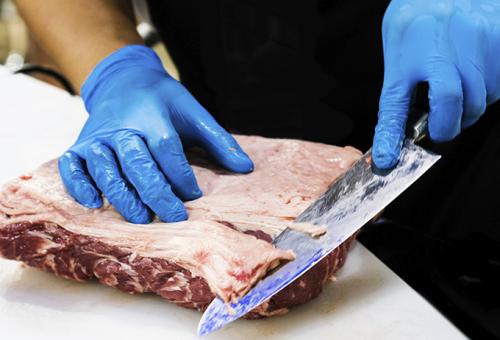 Epta, with its brand Eurocryor, sponsors two initiatives dedicated to young meat workers and industry experts. 
This year, once again, it will be among the protagonists of the Campionato Italiano Giovani Macellai and the training and updating course promoted by Federcarni, the Italian Association dedicated to butchers 
Epta with Federcarni to support the new generations 
Following the success of the first event, the Championship of Federcarni has been revamped for a second edition which began on 3 April. 
The goal is to enhance the talent of the new generations and award the professionals under 35 years of age in various categories. 
Food safety, product quality and technical expertise 
For each event, the Eurocryor experts will assign the "Food Safety and Technical Expertise" award to the participant who will show the highest attention to all aspects. The brand will also provide refrigerated cabinets with natural gas R290 for perfect storage and display of the meat during the tests. 
Butcher businessman at the core of a Federcarni Academy project 
"Butcher businessman: the knowledge of the modern butcher to ensure quality and food safety" an initiative launched by Federcarni will involve the collaboration of Eurocryor and Misa.      
It is a project organised in association with the Department of Veterinary Medical Sciences of the Alma Studiorum University of Bologna. 
The programme is structured in 10 modules, spread over a three-month period. 
The course is an opportunity for the students of the master's degree in Safety and Quality of Animal Production of the university, as also for butcher department employees.
The lecturers will include experts of the Eurocryor and Misa brands, who will hold the lessons on 27 April and 2 May. 
Mauro Libero, Epta Group Service Manager, will present the operation of the refrigeration system. 
His lecture will include an in-depth session on the Dynamic Systems and Adaptive Systems offered by Eurocryor. Finally, Marika Emanueli, Eurocryor Product Manager, will illustrate how to ensure maximum display quality inside the refrigerated counters. Alberto Questori, Misa specialized brand manager, will explain the storage techniques inside Misa cold rooms. 
Epta supports training 
The renewal of its partnership with Federcarni, underlines Epta's commitment to training, promoting expansion of the practical and theoretical knowledge of "professionals" of the meat sector. 
It is a sector in continuous evolution, where professional growth is synonymous with greater competitiveness.