Displaying meat on the butcher's counter: what are customers looking for?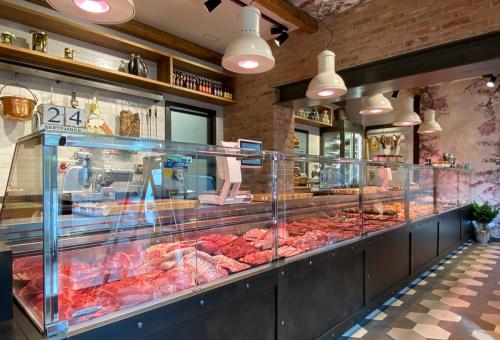 There are two key trends retailers and managers of butchers should take into account when displaying meat. They see a "return to the past with a modern take", along with increased focus on health. 
Consumers are seeking the atmosphere of shops from days gone by, and want to rely on expert staff that can offer them more information about cuts and local selections. 
Attractive and innovative solutions for the butcher's counter
The trend is to enhance meat quality with striking solutions such as Eurocryor's refrigerated cabinets, which team looks with innovative technologies. In showcasing product freshness, they entice consumers to purchase products designed for making healthy, nutritious meals. 
So display plays a crucial role in guiding the choices customers make: it is vital to ensure product visibility is unhampered, and that the design of butcher's counters underscores the quality of the products themselves. 
More than just meat…
Customers want to choose the type of food that best suits their own nutritional approach. This is leading to an increase in protein-based alternatives, not least the plant-based variety. 
Foods are crafted by expert hands and displayed in serve-over refrigerated cabinets, or packaged on the spot and presented in refrigerated self-service islands. 
Dry aging at its finest with the right butcher's counter
Gourmet preparations are also attracting more attention: dry aging and dry-aged cabinets are increasingly common. It is a trend driven by consumers wanting to reproduce recipes enjoyed in restaurants at home, thanks to the possibility to spend more time cooking with the family. 
Butcher-restaurant: a new shopping experience
A trend making waves on an international level, the butcher-restaurant is affirming new ways of presenting and enjoying products. A classic example outside the perimeter of the supermarket, the butcher-restaurant is designed to tantalise and afford a shopping experience which is one of a kind. 
The same location houses a top-level butcher's and an area for savouring meat cooked on the spot. It is a venue that celebrates the product: large, flawlessly cooked cuts, tasteful settings and impeccably preserved meat. 
A tried-and-tested format designed to welcome the Customer into a purposely-designed setting which is both convivial and comfortable.
Eurocryor, the refrigerated cabinet Epta suggests for practicality and style
Epta offers a wide range of Eurocryor-branded solutions that meet retail and butchers' needs for taking the shopping experience to the next level.
Its refrigerated cabinets show off the meat's features and preservation to best effect. A result guaranteed by patented technologies and systems that improve meat preservation whilst maximising sales in butcher and meat departments. These highly customisable solutions are ideal for displays designed to reflect a truly Italian style which puts personality, the uniqueness of each business and its own particular ranges first.