Dynamic System: Epta tecnology applied to the meat display refrigerator Eurocryor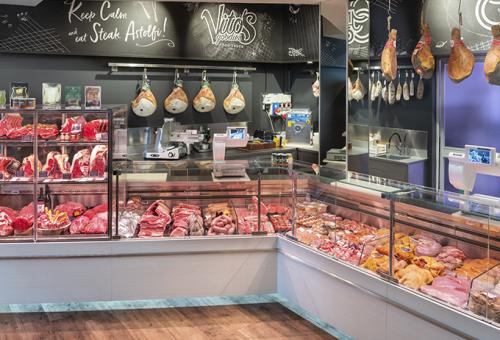 To maximise sales in butcher shops and supermarkets, Eurocryor proposes Dynamic System, Epta technology applied to the meat display refrigerator Eurocryor focused on freshness and maintaining the organoleptic characteristics of the food.
With Eurocryor, perfect display is combined with best preservation. Thanks to investments in research and innovation, the brand offers a specific preservation system able to merge quality of products, better presentation and reduction of energy consumption.
Countertop refrigerated display case: meat preservation without cold rooms
Dynamic System is a patented system, successfully implemented by Epta. It is dedicated to the models of serve-over, remote and self-contained (plug-in) meat display refrigerators branded Eurocryor.
A unique technology on the market which leaves the goods longer in the display cases, without having to place them into cold rooms overnight, maintaining the organoleptic and aesthetic characteristics of the products intact.
The advantages of Dynamic System technology
The results of this guaranteed control method are surprising. It ensures:
"dynamic" management of refrigeration and constant control of the temperature, to minimise variations inside the display case (not more than ± 0.1°C)

humidity is kept at values greater than 90%

without humidifiers

elimination of the need to regularly defrost the evaporator
limitation of the weight loss average of the meat to 0.12% compared to the average 3% of a traditional system
a significant saving in terms of time for operators, equal to one hour and thirty minutes a day, because the articles must no longer be placed in the cold rooms
limited trimming of the meat surface, to reduce food waste.
Dynamic System is a technologically advanced system and developed with a view to sustainable innovation. It is a tool which is simple and intuitive for the operator to use.